Euphoria Salon & Spa
Establishment, health, beauty salon, hair care and spa at 805 East Lake Boulevard Northeast, Airdrie, AB T4A 2G4, Canada. Please contact Euphoria Salon & Spa using information below: address, phone, fax, email, opening hours, customer reviews, photos, directions and more.
Opening hours
| | |
| --- | --- |
| Tuesday | 09:00am — 07:00pm |
| Wednesday | 10:00am — 09:00pm |
| Thursday | 10:00am — 09:00pm |
| Friday | 09:00am — 05:00pm |
| Saturday | 09:00am — 05:00pm |
X
Photos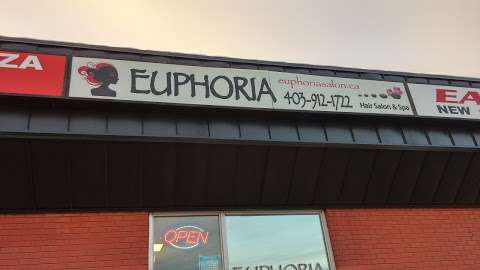 Reviews of Euphoria Salon & Spa
Kim Lysyshy Added 2018-11-04

★ ☆ ☆ ☆ ☆

Haircut was just fine. Took 15 minutes and cost $60 disgustingly overpriced

Maria Stefura Added 2018-09-21

★ ★ ★ ★ ★

Second time for my visit and just like the first absolutely amazing. Aly understood that I'm a mom who has little to no time for my hair but still want to feel and look amazing. She had delivered on her promise and I absolutely love my hair. Highly recommend this place with their super friendly staff.

Rhyden Williams Added 2018-09-08

★ ★ ★ ★ ★

I have been seeing Jess for almost 4 years now. She has become a great friend to me and always knows what's best for my hair. Having black hair for years she has transformed me into a blonde in a safe matter (without damaging my hair) She takes pride in all her work and makes sure you leave with a new pair of abs from laughing so much. The girls at Euphoria are all so kind and take their time to really get to know you. That's the best part. You walk into the salon as though you've known them all for years. Euphoria salon is amazing!

Kayla D Added 2018-08-18

★ ★ ★ ★ ★

Jess at Euphoria is an absolute hair QUEEN! The first time I went to see her we had to do a major colour correction to my horrible hair colour I had from a previous salon. she absolutely KILLED it! My colours blend together perfectly, my blonde stays beautiful until the next visit I have with her and she cut my hair exactly how I love it. Even two months after my first visit with her I couldn't believe how good my hair still looked. She is my new hair dresser for life and I've recommended my friends to her and they absolutely adore her too! Besides Jess being amazing at what she does -- Euphoria is a beautiful salon with friendly stylists and a welcoming environment. Absolutely love Jess and the salon she works at! Highly recommend both!

Louise Bowes Added 2018-08-15

★ ★ ★ ★ ★

This is over and above a 5 star Salon, the most genuine friendly ladies I have met in a long time. I wouldn't recommend anywhere else.